O M G!!!....i'm so excited...yeay!!! I was awarded the My BLOG HAS ATTITUDE Blog Award, CHERRY ON TOP, SUNSHINE AWARD, and THE SWEET BLOGGER AWARD....Yup!!! LOL...That is so cool...Dorcas over at "My 4 Crafty Angels" at: http://4craftyangels.blogspot.com/. These blog awards are so cool...Here it is...Ta DAaaaa!!!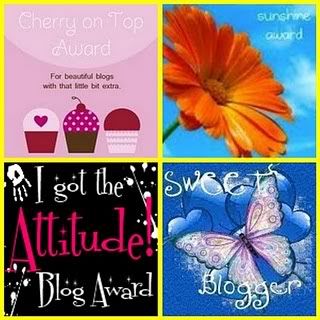 I am so HONORED...THANKS DORCAS...I can see why she got all of these. Thank you for wanting to share them with me Sweet Pea.The attitude award has a little extra to it. They are giving a $5.00 gift certificate for some digi stamps. I have done digi stamps (letterin Delights) before so this is fun to try out for FREE!! Go to: http://digiswithattitudechallenges.blogspot.com/p/i-got-attitude-blog-award.html. For the Complete Rules...
Now, I must state 3 things that makes me different from everyone else and nominate 5 blogs. So Ladies...keep an eye out, I may NOMINATE YOU!!!!
Three Things that make me different:
Sincere

...Im a very sincere person...i will always mean what I say.

Bold/Eager

....always eager to learn new techniques in paper crafting (scrapbooking, card making). I'm not afraid in trying new ideas

Sensitive

...to my followers, all comments are much appreciated and all suggestions from them are taken in to consideration and applied accordingly...I love to know what you all think..."CRITICISM" i don't take it personal...i see it as an opportunity to GROW...
NOw STAY POSTED...As this is a very hard decision on who to award this "Blog Attitude Award".
Thanks for stopping by...I will post the CHOSEN ONES this evening....
For Now SWEET SCRAPPY HUGS, Remember to Keep Scrappin', and Keep Sharin'
HONEY B